The 21st century has ushered in a new kind of website, one which allows you to make changes to your site without knowing a lick of HTML or CSS coding! A "Content Management System" allows you to log in to the back-end "dashboard" of your site (see below) and use a simple interface to edit existing content, add new pages, upload pictures, and more.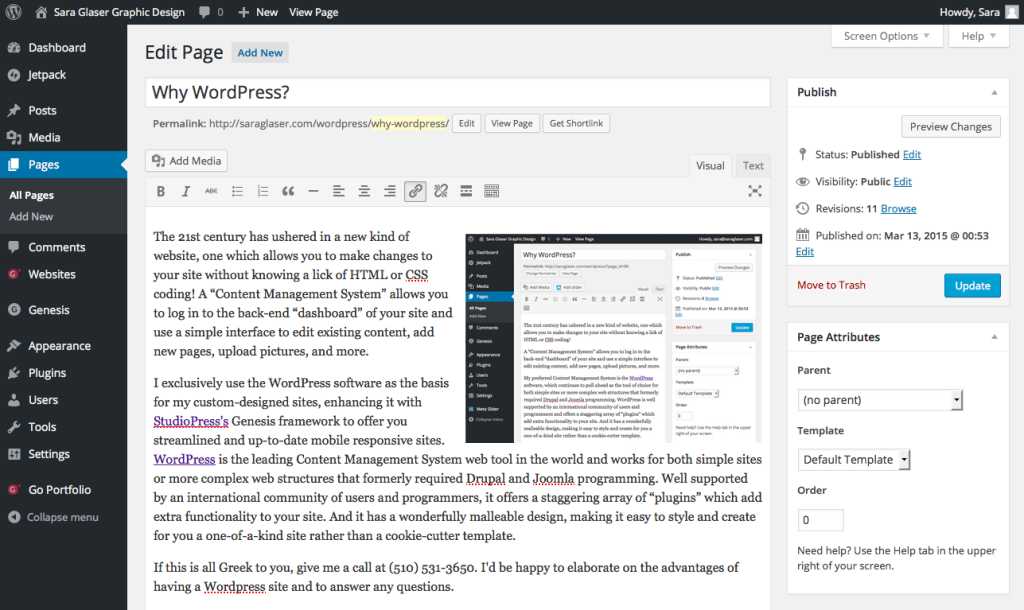 I exclusively use the WordPress software as the basis for my custom-designed sites, enhancing it with StudioPress's Genesis framework to offer you streamlined and up-to-date responsive sites.* WordPress is the world's leading Content Management System web tool and works for both simple sites or complex web structures. Well supported by an international community of users and programmers, and with 75 million sites on the web, WordPress offers a dazzling array of "plugins" which add extra functionality to your site. It has a wonderfully malleable design, making it easy to style and create for you a one-of-a-kind site rather than a cookie-cutter template. And search engines such as Google and Bing prioritize WordPress sites.
If this is all Greek to you, or all geek to you, give me a call at (510) 531-3650. I'd be happy to tell you more about the advantages of WordPress and to answer any questions.
* Responsive sites reconfigure when viewed on mobile phones, tablets, and small laptops. An estimated 60% of browsing is now done on mobile devices.