Raised Up Singing
Malkat Shabbat (Words: Chaim Nachman Bialik/Music: Sim Glaser)
Home (Karla Bonnoff)
Summertime (Words: Dubose Heyward/Music: George Gershwin)
Soon It's Gonna Rain (Words: Tom Jones/Music: Harvey Schmidt)
Faith Healer (Sara Glaser)
Dream a Little Dream of Me (Words: Gus Kahn/Music: Fabian Andre & Wilbur Schwandt)
Shabbes (Traditional)
Man Come Into Egypt (Fred Hellerman & Fran Minkoff)
Catch The Wind (Donovan Leitch)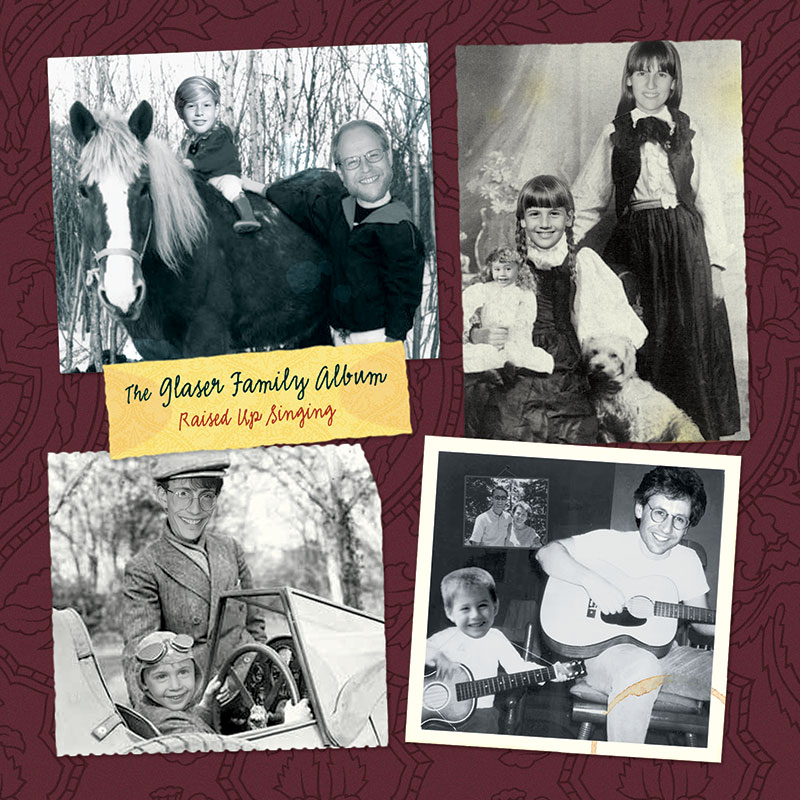 Jack Glaser / vocals, harmonica, guitar
Meyer Glaser / vocals
Sara Glaser / vocals, guitar
Sim Glaser / vocals, guitar, bass
Mark Bloom / piano, keyboard
Louis Glaser / drums, bass
Nika Rejto / flute
Liner Notes
1. Malkat Shabbat
Words by Chaim Nachman Bialik
Music by Sim Glaser /©1978 Sim Glaser
Sim's UAHC summer camp hit. His only hit, actually. Previously recorded on Shir M'Libeinu in 1983. "The sun in the treetops is no longer seen. Come let us welcome the Sabbath Queen. Here she comes! The holy one, the blessed one!"
2. Home
Karla Bonoff / ©1976 Sky Harbor (BMI)
A sweet little ditty about home. Reminds the Glaser sibs of our humble upbringing on the farm in Nebraska, where dad would simultaneously milk the goats and study the ancient texts, and mom's kasha varnishkes always took first prize at the county fair.
3. Summertime
Words by Dubose Heyward / Music by George Gershwin / ©1935 Gershwin Publishing Corp.
Our own arrangement of the Porgy and Bess standard featuring Meyer's resonant baritone. Yes, everybody has done this song, but nobody we know has included the words "95% humidity" in the back-up vocals, nor has anyone kept it to one minute forty-seven seconds. Bee-ooey-ooey.
4. Soon It's Gonna Rain
Words by Tom Jones / Music by Harvey Schmidt / ©1960 Tom Jones & Harvey Schmidt, Chappell & Co. Inc.
We just like this song, that's all. The musical from which it comes, The Fantastiks, played in San Francisco pretty much the entire time we lived in the Bay Area as kids and is also the longest running off-Broadway show in history.
5. Faith Healer
Sara Glaser / ©2002 Oxen Four Music Inc.
Sara's poignant piece has turned out to be an early favorite on the album. Sim's daughter Hannah asked: "Wait, who did this originally?" Sim said: "Joan Baez, during her Diamonds and Rust period." But that's not true—it's all Sara.
6. Dream a Little Dream of Me
Words by Gus Kahn / Music by Wilbur Schwandt & Fabian Andree / ©1930 Essex Music, Inc.
Another standard we were able to mercifully keep to under two minutes. We tried to make it sound old-fashioned by tweaking the vocals with a filter and having the oldest member of the quartet warble it.
7. Shabbes
Traditional
Roughly translated: "A day of rest, love, peace for everyone, over the whole world." This tune demonstrates our extensive command of Yiddish. Just about every Yiddish word we know is in this song. If it weren't for the Yiddish language, this song would not exist. We end it with a jazz coda, which is virtually unknown in the world of Yiddish music. Did we mention this song is in Yiddish?
8. Man Come Into Egypt
Fred Hellerman and Fran Minkoff / ©1963 Appleseed Music Inc.
This is the kind of song that used to wed the Reform Jewish emphasis on social justice with the '60s folk movement. When we sang about Moses we were really talking about the call of the prophetic tradition to bear on the never-ending social issues to which the Jewish people must eternally attend. Notice how the ending sounds like we are riding off into the sunset in an old TV western.
9. Catch The Wind
Donovan Leitch / ©1965 Donovan (Music) Ltd.
A pretty Donovan song we thought would be a good album ender. It features Glaser sibling four-part harmony in the last stanza. Di En Ay Fa So La Ti Do!
Credits
Recorded by Bob Shumaker at Bay Records Recording Studios, Berkeley, California
Mixing, mastering, and additional recording by Brian Johnson at Echobay Productions, Minneapolis, Minnesota
Produced by Sim Glaser and Sara Glaser
Copyright ©2004 Oxen Four Records
Cover art and graphic design: Sara Glaser
Special thanks to: Mike Cogan and Nika Rejto, Bobby Z, James Frasier, and our families